Limited Numbered Irish Lips T-shirt
$20.00
Copied from our famous Irish Lips painting created for the 2019 Iowa Irish Festival. Get yours while they last. L, XL, XXL. Signed & numbered on lips.
Description
Lips are signed by artist, Deb Weiser. Show your Irish pride! (Shown is the original painting.)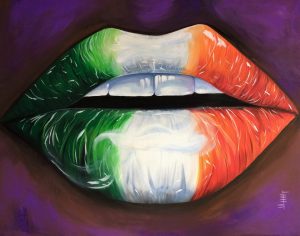 Shipping Policy
Usually shipped within 4 working days. Only $3 shipping charge.
Refund Policy
Sizes run small so order next size up. Wear L? Order XL. Refund less shipping with one week or receipt.